I am a revolutionary, says warlord
Agency Staff | 31 August 2018| Business Day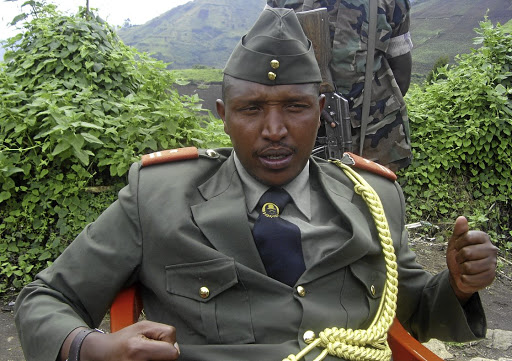 The Hague — Congolese warlord Bosco Ntaganda told the International Criminal Court in The Hague on Thursday that he was a "revolutionary and not a criminal", as arguments drew to a close in his three-year war crimes trial.
Ntaganda, aged around 44, is accused of overseeing massacres of Lendu and other civilians by his rebel army in the Ituri region of northeastern DRC in 2002 and 2003.
Once a feared commander, Ntaganda now faces charges of war crimes and crimes against humanity for his role in the bloody conflict wracking the mineral-rich but volatile region. Speaking in his native Kinyarwanda tongue, the rebel commander, on the final day of the hearing, said his own testimony during his trial was "an enriching experience which I will never forget".
I HOPE THAT YOU NOW REALISE THAT THE 'TERMINATOR' DESCRIBED BY THE PROSECUTOR IS NOT ME
"I am at peace with myself. These allegations are nothing more than lies," said Ntaganda, dressed in a dark blue suit, light blue shirt and blue diamond-patterned tie. He again took aim at his nickname "The Terminator", which was also used by prosecutors to describe him during the trial.
"I hope that you now realise that the 'Terminator' described by the prosecutor is not me," Ntaganda said, his glasses perched on his nose.
Rwandan-born Ntaganda, a former general in the DRC army, had a reputation as a charismatic leader with a penchant for cowboy hats and fine dining.
He faces 13 counts of war crimes and five counts of crimes against humanity as a commander of the Patriotic Forces for the Liberation of Congo (FPLC). The alleged crimes include murder, rape, sexual slavery and recruiting children under the age of 15.
Prosecutors told the trial on Tuesday that Ntaganda's fighters slaughtered civilians with machetes and disembowelled pregnant women. They showed shocking pictures of disembowelled bodies and corpses with their throats slit.
Prosecutors alleged that Ntaganda was central to planning operations for the Union of Congolese Patriots and its military wing, the FPLC. They said the FPLC killed at least 800 people as it battled rival militias for control of Ituri. More than 60,000 people have been killed since violence erupted in the region in 1999, say rights groups.
Ntaganda has been on trial at the ICC since 2015. He pleaded not guilty to the charges. He is a founding member of the M23 rebel group, which was eventually defeated by Congolese government forces five years ago. The first ever suspect to voluntarily surrender to the ICC, he walked into the US embassy in Kigali in 2013 and asked to be sent to the court.
On Thursday Ntaganda gave his reasons for the first time for handing himself over, saying the decision "profoundly changed my life".
"I truly felt the need to surrender voluntarily and face the charges against me," he said, adding that he wanted to "publicly set the record straight".
However, observers said Ntaganda was possibly fearing for his life as a fugitive from a rival faction in the M23 movement. Judges will now deliberate, but it may take months or even years before a verdict is handed down.
The ICC was set up in 2002 to try the world's worst crimes.
Closing arguments in Ntaganda's case have been followed with interest after the surprise acquittal of another DRC rebel leader, Jean-Pierre Bemba.
Initially sentenced to 18 years for war crimes committed by his troops in the Central African Republic, Bemba was acquitted on appeal in June.
He has since returned to Kinshasa hoping to run in DRC presidential elections. The acquittal is seen as a blow to chief prosecutor Fatou Bensouda's office. She has been criticised for singling out perpetrators from Africa for prosecution.
Ntaganda's former FPLC commander Thomas Lubanga was sentenced to 14 years in 2012 — the court's second conviction since it was set up.
Related: Uncertainty has a price, and the DRC needs to stop paying it