Chinese Aid and Investment Are Good for Africa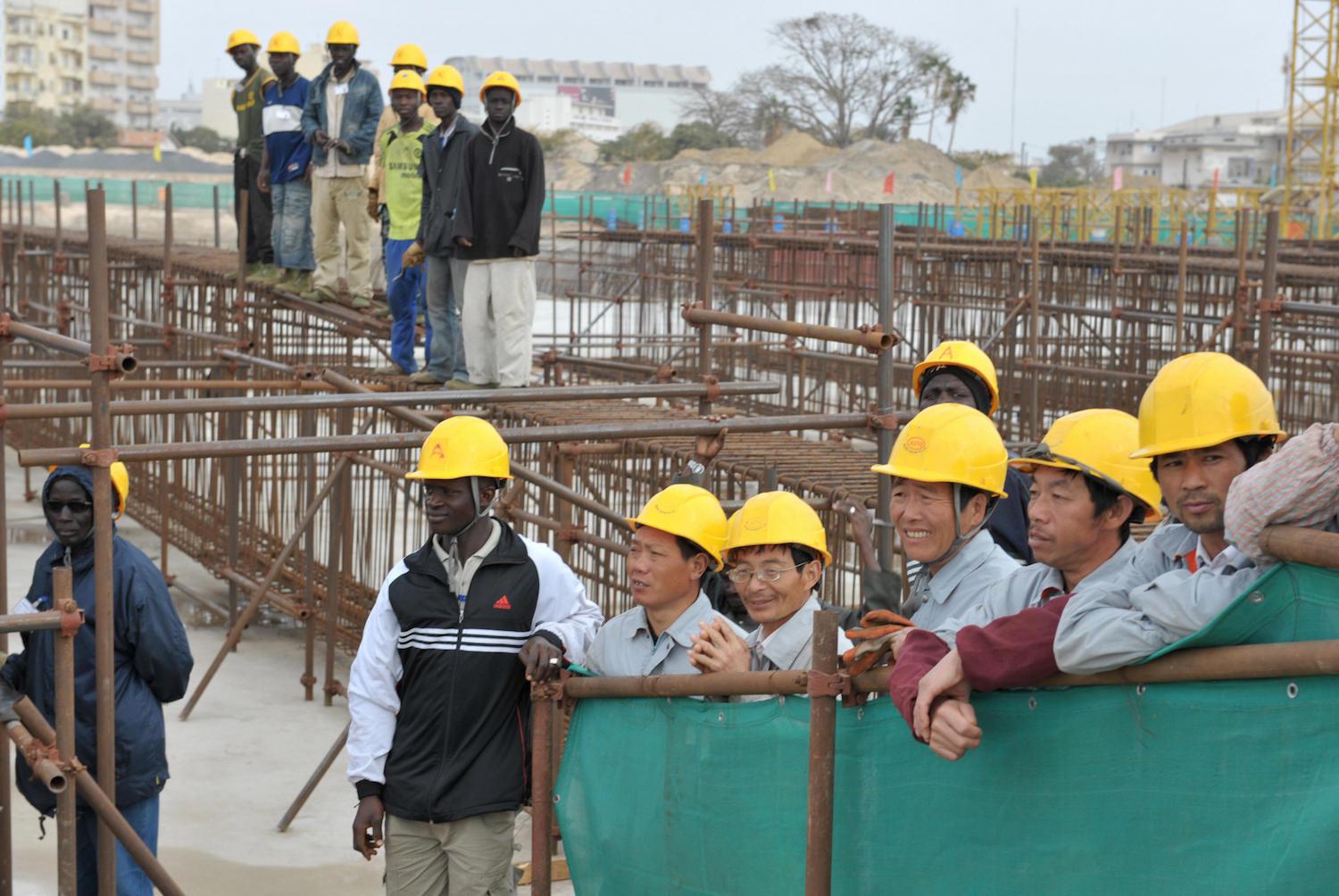 J. Peter Pham, Abdoul Salam Bello, Boubacar-Sid Barry | August 31, 2018 | Foreign Policy
Increased interest in the continent's real estate and resources will enhance the bargaining power of governments there—but they need to bargain for the right things.
Next week, [read this week] presidents and ministers from across Africa will make their way to Beijing for the seventh Forum on China-Africa Cooperation, a lavish pageant designed to showcase China's engagement with African nations. At the last FOCAC, Chinese President Xi Jinping pledged a massive $60 billion in commercial loans to Africa, a sum that far outstrips U.S. lending and investments. But Washington shouldn't necessarily be alarmed—at least not yet.
Since the first FOCAC in 2000, China has grown from bit player in Africa to the source of nearly $200 billion in trade. From 2001 and 2011, China also committed $75 billion in aid to the continent, about 20 percent of the $404 billion total that the Organization for Economic Cooperation and Development's Development Assistance Committee calculated for the period. The United States promised somewhat more—$90 billion in the same period—but Chinese aid is more sought after. Unlike Western assistance, which comes mainly in the form of outright transfers of cash and materiel, Chinese assistance consists mostly of export credits and loans for infrastructure (often with little or no interest) that are fast, flexible, and largely without conditions. Thanks to such loans, the International Monetary Fund estimates that, as of 2012, China owned about 15 percent of sub-Saharan Africa's total external debt, up from only 2 percent in 2005. And McKinsey & Co. reckons that, as of 2015, Chinese loans accounted for about a third of new debt being taken on by African governments.
Many observers have warned of the real risk of Chinese lending undermining African sovereignty and U.S. interests in the region.
Many observers have warned of the real risk of Chinese lending undermining African sovereignty and U.S. interests in the region. For example, in remarks early this year, then-U.S. Secretary of State Rex Tillerson acknowledged that "Chinese investment does have the potential to address Africa's infrastructure gap" but at the same time lamented that "its approach has led to mounting debt and few, if any, jobs in most countries" even as it "encourages dependency using opaque contracts, predatory loan practices, and corrupt deals that mire nations in debt and undercut their sovereignty, denying them their long-term, self-sustaining growth."
Take, for example, the tiny, sparsely populated East African country of Djibouti, which Tillerson visited during what turned out to be his last trip as America's chief diplomat. Since 2002, it has been home to the largest U.S. military base in Africa, which is used as a launchpad for counterterrorism operations in East Africa and the southern Arabian Peninsula. In the last two years alone, Djibouti has borrowed $1.4 billion from China—an astronomical sum for a country of barely a million people. That's more than three-quarters of Djibouti's GDP. Beijing has leveraged this money to open its first overseas military installation, which is located in Djibouti City next to a port that is also owned and operated by China. The base has badly crowded U.S. operations and has been used to harass U.S. pilots. Perhaps even worse, Beijing's resident ambassador has reportedly told diplomats that his country expects to be repaid either in cash or in kind, raising the specter that Beijing intends to expand its military footprint in the country—whether its government likes it or not.
The Djibouti example aside, though, Chinese loans are neither inherently good nor bad—they will be whatever the African nations choose to make of them.
The Djibouti example aside, though, Chinese loans are neither inherently good nor bad—they will be whatever the African nations choose to make of them. Increased competition for African real estate and resources should, in theory, enhance the bargaining power of African governments, which is inarguably a good thing. The question, however, is whether African leaders will rise to the occasion or whether they will settle for deals that may deliver short-term gains but at significant long-term costs.
Kenya is a good case study of how to leverage the opportunities. In late August, President Uhuru Kenyatta met with U.S. President Donald Trump at the White House, and the two leaders announced the establishment of a United States-Kenya Trade and Investment Working Group and promised to find financing for a superhighway between the capital of Nairobi and the port of Mombasa. It will be built by the U.S. construction giant Bechtel. After a quick trip home, Kenyatta embarked for the FOCAC meeting, where he will likely sign further deals on top of the $3.2 billion Chinese-funded, -built, and -operated Madaraka Express railway between Nairobi and Mombasa that opened last year. In combination, the new U.S.-funded superhighway and additional Chinese-supplied railway infrastructure will leave Kenya better equipped for international trade.
The question, however, is whether more African leaders will follow that lead. If they use Chinese financing as a patch for poor governance and irresponsible fiscal policies, then China's no-strings-attached approach to doing business could indeed be disastrous. It could become, in the words of Lamido Sanusi, the former governor of the Nigerian Central Bank (and now emir of Kano) a "new form of imperialism," consisting primarily of extracting resources and selling finished products back to Africans, without much in the way of technology and skills transfers in between. If African nations are more strategic about the use of Chinese aid though, then it could not only help the continent build necessary power and road infrastructure but also spur economic growth. The World Bank estimates that if the region could just close its infrastructure gap with the median of the rest of the developing world, GDP per capita would increase by 1.7 percentage points per year.
Weakly democratic governments in Africa could also let Chinese investment become a full replacement for Western assistance on the grounds that Western help comes with too many conditions. In doing so, they would miss out on a source of funding that could lead to long-term economic health. It is not lost on observers that while Chinese funds have poured into virtually every corner of Africa, nearly 75 percent of the investments have gone to just 10 countries, among which only one, South Africa, is classified as "free" in Freedom House's 2018 Freedom in the World report.
The United States and its partners should not be naive about China's advance across the continent, but they should not view it rival's involvement as a zero-sum game, either—not least because Africans would not welcome such an approach. The world stands to gain from China's engagement in Africa.
The world stands to gain from China's engagement in Africa.
China is the only global actor that is realistically capable of relieving (or, at least to date, has even shown interest in) tackling Africa's enormous infrastructure deficit, especially in power and transport, which will cost a staggering $90 billion every year for the next decade to address. And China needs Africa's natural resources and export markets to fuel its own growth.
But the partnership will only pay off if the infrastructure projects that China underwrites are high-quality, commercially sound, socially responsible, and well-managed. And there is no reason they can't be. However, it is up to African leaders to drive harder bargains and African publics to demand transparency in the terms of contracts, especially where land or commodity futures are at stake. The more competitors there are in the aid space, the easier that will be.
The Trump administration's National Security Strategy recognizes Africa's economic potential and a strategic need to provide an alternative to China's "often extractive economic footprint" on the continent. This is all well and good, but it assumes that U.S. businesses will be present and engaged across Africa alongside America's diplomats, development specialists, and military personnel in ways that they currently are not. If African leaders are partying—and signing deals—in Beijing, it is because they need what those partnerships promise. It is in everyone's interest that the United States and other developed countries both match those moves and raise them as well.