How Zoom became the defining app of the coronavirus era
In a new age of lockdowns, the US video platform has become this year's most useful social tool.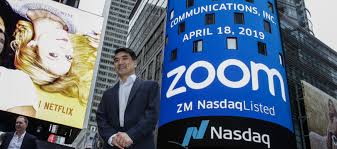 croll through any of the 1,970 Zoom employee profiles on LinkedIn and you will find a lot of earnest statements. The workers at the California-based tech company are "transforming the way organisations communicate" or "making the world a better place one connection at a time". But the mission statement used by the greatest number of Zoomers is "delivering happiness to our users!"
In normal times, it's easy to be cynical about this Silicon Valley-style perkiness. But as lockdowns and social distancing prompt a global retreat into our homes, Zoom usage has surged. The remote video conferencing provided by the company has connected home workers with one another, as well as allowing friends and families to stay in touch. In the era of coronavirus, Zoom has perhaps truly become a tool for creating happiness. 
The firm was founded nine years ago by Chinese-American businessman Eric Yuan, 50, formerly vice-president of engineering at US technology giant Cisco Systems. By 2015, 40 million people had taken part in a Zoom-hosted meeting. In 2019, the company went public and was valued at $16bn.
But this growth has now been far exceeded: Covid-19 meant Zoom's daily active user base grew by 67 per cent in the first three months of this year, and the company now has a market value of $42bn. In recent weeks, its app has been downloaded more than 50 million times from the Google store alone.
Yuan, who was born in Tai'an, eastern China, in 1950, moved to the US in the mid-1990s. His net worth is now rising faster than that of any other person in North America. By the close of trading in New York on 28 March, Yuan's personal fortune was valued at $7.86bn, a rise of $4.29bn (121 per cent) since the same time last year, according to The Bloomberg Billionaire Index. 
Zoom has now expanded far beyond its existing business base. Its app has allowed isolated over-70s to see their grandchildren, office workers to replicate their Friday night pub sessions, and teenagers to throw parties. Zoom's popularity with the younger generation ("now we know what the Z in Gen Z stands for!") stems from the US, where the company has waived payment for schools, leading to its adoption by teachers and students arranging out-of-class hangouts. It has rapidly become a part of popular culture, and social media memes abound.
So, why Zoom, of all the platforms available? It lacked the brand recognition of Apple's FaceTime or Skype, but compensated for that in other ways. It's user-friendly, even for those who are not comfortable with technology. Anyone can join a Zoom call simply by clicking on a link: there's no need to guide anyone through an installation process.
Zoom allows for multiple users, including as many as 100 in the free version of the software. This free version also allows 40-minute meetings (or parties and coffee mornings) to take place; groups of Zoom partiers will often refresh their drinks, get another member to send out a new link and pick up where they left off. It's also reliable. The connection rarely cuts out or wavers. This contrasts with Skype, which has suffered recurrent complaints about sound and video since its acquisition by Microsoft in 2011.
Almost inevitably, Zoom's rapid user growth has been accompanied by concerns about data privacy. The Apple version (iOS) of the app, for instance, sent information about user devices to Facebook, even if the user didn't have a profile on the site. The company, which used Facebook's software development kit to create some features, said it was unaware of the issues. Yuan subsequently apologised to users and Zoom introduced a solution on 27 March: updating the app will prevent any transfer of data.
There have also been a spate of "Zoombombings", with uninvited users crashing meetings or parties, and sometimes sharing violent or pornographic imagery. But the company blog now carries a list of tips, including advice on locking calls and disabling video for particular users. And however long the age of social distancing endures, Zoom's rise appears assured.