Elephants Really Can't Hold Their Liquor
Humans and other species have a gene mutation that lets them digest alcohol. In other species, it's missing.
Rachel Nuwer | May 20, 2020 | The New York Times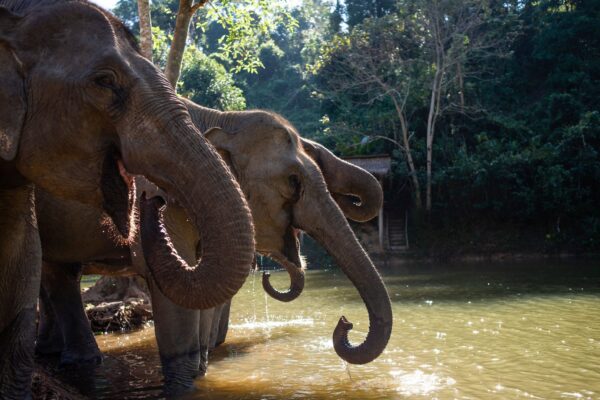 Humans are not the only animals that get drunk. Birds that gorge on fermented berries and sap are known to fall out of trees and crash into windows. Elk that overdo it with rotting apples get stuck in trees. Moose wasted on overripe crab apples get tangled in swing sets, hammocks and even Christmas lights.
Elephants, though, are the animal kingdom's most well-known boozers. One scientific paper describes elephant trainers rewarding animals with beer and other alcoholic beverages, with one elephant in the 18th century said to have drunk 30 bottles of port a day. In 1974, a herd of 150 elephants in West Bengal, India, became intoxicated after breaking into a brewery, then went on a rampage that destroyed buildings and killed five people.
Despite these widespread reports, scientists have questioned whether animals — especially large ones such as elephants and elk — actually become inebriated. In 2006, researchers calculated that based on the amount of alcohol it takes to get a human drunk, a 6,600-pound elephant on a bender would have to quickly consume up to 27 liters of seven percent ethanol, the key ingredient in alcohol. Such a quantity of booze is unlikely to be obtained in the wild. Intoxicated wild elephants, the researchers concluded, must be a myth. As the lead author said at the time, "People just want to believe in drunken elephants."
If you are one who wanted to believe, a study published in April in Biology Letters might serve as your vindication. A team of scientists say that the earlier myth-busting researchers made a common mistake: They assumed that elephants would have to consume as much alcohol to get drunk as humans do. In fact, elephants are likely exceptional lightweights because they — and many other mammals — lack a key enzyme that quickly metabolizes ethanol. The findings highlight the need to consider species on an individual basis.