Ethiopia begins preliminary steps to fill GERD reservoir
May 31, 2020 | Egypt Independent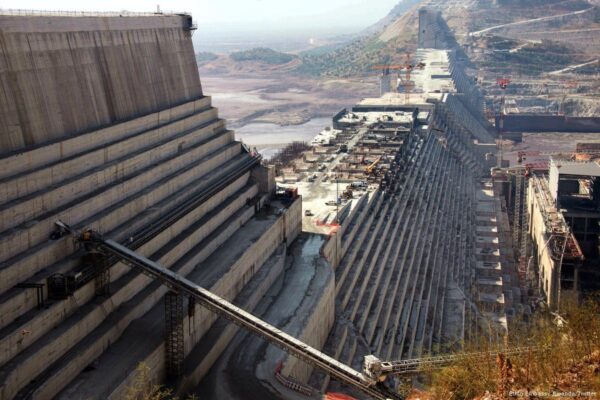 Ethiopia announced Saturday its preparations for clearing the land behind the Grand Ethiopian Renaissance Dam (GERD), to begin filling its reservoir with water in July.
The Ethiopian News Agency (ENA) said that the Job Creation and Enterprise Development Agency in Ethiopia's Benishangul Gumuz region has announced that it is ready to deploy more than 2,000 people to clear the land there.
The Job Creation Agency's director general, Bashir Abdel Rahim, explained that these workers will remove trees, shrubs and stones from the land behind the dam, with a total of 1,000 hectares to be cleared within 45 days to start the first phase of the water filling process by July.
Abdel-Rahim pointed out that the agency allocated 29,000 Ethiopian birr for clearance operations per hectare of land, at a total cost of 29 million birr.
The GERD's reservoir will store a maximum of 74 billion cubic meters of water upon completion of the filling process, according to the ENA.
Last Thursday, the Vice-President of the European Commission and Commissioner for Foreign Affairs, Josep Borrell held a telephone conversation with the Commissioner for Peace and Security in the African Union, Ismail Sharqi to discuss the GERD's latest developments.
A statement from the EU said that Borrell stressed that "resolving the dispute is important for stability in the whole region", and welcomed Egypt, Sudan and Ethiopia's decision to resume technical talks between the ministers of water resources.
The statement concluded by affirming the EU's "readiness" to support all involved parties and exchange the EU's experiences with them.
Observers in Egypt hope that a European mediation in the GERD issue may push the Ethiopian side to show more flexibility in negotiations with up-stream countries.
Related: EU welcomes resumption of Ethiopian Renaissance Dam negotiations