Kaberuka's star performance leaves big shoes to fill at AfDB
BY Dianna Games, 11 MAY 2015, Business Daily (South Africa)
A LANDMARK election is coming up later this month that will affect Africa's fortunes over the next decade — and yet most Africans are unaware of it. The election of a new president of the African Development Bank (AfDB) looms as Donald Kaberuka spends his last few months in office after a decade at the helm. When Kaberuka, former finance minister of Rwanda, was voted into the job in 2005, Africa was a different place. There was no talk of Africa rising, China was just starting to make its mark in Africa and the 2008 financial crash lay in the future. Africa was awash with fragile states and the possibility of middle-income nations emerging across the continent was some way off.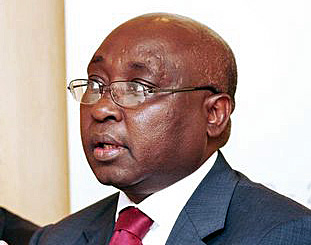 The bank, certainly in this part of the world, was viewed, rightly or wrongly, as a far-off institution dominated by western powers and Francophone Africans — the presidency was held by a Senegalese and then a Moroccan between 1985 and 2005. The organisation was based in West Africa, before camping out in Tunis from 2003 until last year to escape civil war in its host country, Côte d'Ivoire. The bank's authorised capital is provided by 80 member countries — 54 African states (regional members) and 26 others (non-regional). The US is the biggest non-African shareholder although China is growing in importance.
Although Kaberuka has made his mark over the past 10 years, in 2005 he was not a shoo-in, going head to head in successive voting rounds with Nigeria's Olabisi Ogunjobi. I was in the Nigerian capital, Abuja, at the first voting rounds while assisting presidential aspirant Simba Makoni, Zimbabwe's former finance minister, with his media campaign. What might have been a rather dry affair became heated as a decisive result eluded the gathering. Makoni was voted out early, a victim of the "Zimbabwe factor" at a time when the country was at a low ebb politically and economically.
As it narrowed down to two candidates, a rumour that SA was supporting Kaberuka against the Nigerian candidate did the rounds despite there being no evidence to support this notion. The rumour was later written up as fact in local newspapers. A Nigerian had narrowly lost to a Moroccan in the 1995 election and Nigerians simply believed it was their country's turn. But again they were pipped at the post.
Ten years later, Nigeria has a good chance of winning with departing Agriculture Minister Akinwumi Adesina, who has earned wide respect for his bold policy reforms. This time, the Nigerian camp is not taking any chances with SA. Adesina, accompanied by former Nigerian vice-president Atiku Abubakar, recently visited President Jacob Zuma to lobby for SA's support in their bid. This was done at the bidding of president-elect Muhammadu Buhari, although Abubakar and Zuma are friendly.
Nigeria is powerful in the AfDB as its biggest shareholder with 9.3%. SA is the fifth-largest, after the US, Japan and Egypt. A cautious statement said: "The issue of SA and the Southern African region's support for Nigeria's candidate was exhaustively discussed and well appreciated." However, SA might also be expected to support the "regional" candidate — Zimbabwe's Thomas Sakala, formerly a vice-president of the AfDB, now retired. Other countries with candidates in the race are Ethiopia, Tunisia, Chad, Cape Verde, Sierra Leone and Mali.
Kaberuka has received acclaim for modernising the bank and making it more responsive to African countries' changing needs. In addition to scaling up infrastructure funding, he has also focused on improving the competitiveness of Africa's private sector, among many other initiatives. Not only has this bank become more relevant in terms of funding priorities, it has become an important voice in and for Africa.
Its next leader has big shoes to fill in an increasingly dynamic Africa.