Episode 3-2015: Types of Authoritarian Regimes
Breaking the News: the Role of Authoritarian State-Run Media
 Episode 2-2015:

DUMPED IN AFRICA
Episode 1-2015: GOOD GOVERNANCE
Episode 2-2014: NEW SCRAMBLE FOR AFRICA?
BACK TO BASICS!
The New Food World Order and Global Land Grab
BALLAD OF A LAND GRAB PROJECT IN MALI
Episode 1-2014: China in Africa
BATTLE FOR AFRICA
Over the past decade, China's hunger for Africa's rich natural resources has seen it overtake Europe and America as the continent's largest trading partner.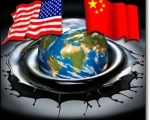 The West – for so long the dominant external force in Africa's affairs – has reacted to this rush of investment with more than a fair degree of unease. Commentators in Washington, London, Paris and elsewhere have openly expressed anxiety that the West's economic and political influence in Africa is waning and that 'unless something is done' this ' Battle for Africa ' as it has become known, will have damaging strategic consequences down the line.
Yet they know too that China's often expressed reluctance to interfere in the local politics of other nations – or at least to attach any tiresome conditions about democracy or improving human rights to their investments and aid – is allowing some African politicians to thumb their noses at Western institutions and former colonial powers that have previously tried to make them toe the line. In other words, as seen from outside, it is a narrative about winners and losers, about the big beasts of the global world being rivals in a competition in which China currently has the upper hand.
But what does this changing dynamic mean for Africans themselves? The continent is so full of promise and blessed in so many ways with things the world needs – from oil and minerals and land to vast amounts of people capital – yet it has struggled since colonial times to truly realize its potential.
CHINA FROM THE INSIDE
China is rapidly becoming a world power, but much of the country and its people remain hidden to those outside its borders. China from the Inside provides a rare insider's view of China, her institutions and people.
China is at a critical point in its history — it is richer and stronger than ever, but the clash between economic policies and the Communist political agenda complicates the lives of many of its citizens. China from the Inside includes perspectives ranging from those of the powerful to the powerless, the scholars and the uneducated, and the supporters and detractors of today's China. It does not shy away from China's many contradictions, with scenes from some of the most breathtaking places on the planet as well as the most polluted.
Across four extraordinary hours, the series explores a country of 1.3 billion people undergoing astonishing growth while facing prodigious obstacles:
Episode 1: Power and the People (60 minutes)
How does the Communist Party exert control over a population of 1.3 billion? Are village elections a chance for people to take a share in power? Can the Party end the rampant corruption and keep the people's trust? Chinese people, from farmer to Minister, speak frankly about the problems the country faces and the ways forward.
Episode 2: Women of the Country (60 minutes)
China's women are argued over at their weddings and have one of the highest suicide rates in the world. Now many are beginning to fight for their rights and their futures. This hour shows discrimination against Xinjiang's Muslim women, various hardships faced by Tibetan women, and the status of some of those who have left the countryside for factory work in the cities.
Episode 3: Shifting Nature (60 minutes)
China's environment is in trouble, but solutions often seem as harsh as the problems. A third of the world uses water from China's rivers, but rapid industrialization and climate change have led to bad air, polluted rivers and dire water shortages. One "solution" that has received considerable media attention in the West is the channeling of water in the biggest hydraulic project in world history. While it has benefited nearly half a million people, relocation from dam areas is causing mammoth social upheaval.
Episode 4: Freedom and Justice (60 minutes)
Religious worship in China is problematic for Tibetan Buddhists, Catholics separated from Vatican influence, the 40 million adherents of China's unofficial churches, and the Falun Gong. Civic problems include forced evictions, government cover-up of AIDS, corruption and land grabbing. Filmed in Tibetan temples, newspaper offices and a labor camp, this final episode asks: what are the limits of freedom — and the threats to stability?
China from the Inside is a co-production of KQED and Granada Television and is produced by award-winning documentary filmmaker Jonathan Lewis. Presented by KQED Presents, it is underwritten by the CPB, KQED Campaign for the Future Program Venture Fund, David & Cecilia Lee, and individuals. A complete list is available upon request to PBS.
Wrestling the Dragon, Singlehanded!
http://youtu.be/GCpcvwv17w0